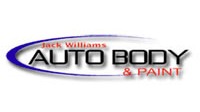 Jack Williams Auto Body Repair
Rick has over 40 years of experience in the Collision Repair industry, as a collision repair Technician and Painter, Mechanic, Estimator, Manager and now Owner. Rick prefers a hands on approach to managing the shop, and enjoys interacting with customers, overseeing the quality of repairs and everything in between. Rick holds certifications with ICAR, 3M, Cheif, Mitchell and more. Rick has years of expertise in both collision repair and restoration, setting him apart from most others in the industry. Rick resides in the community with his wife and four children, and is an active member in both the local community and the auto body community at large. Feel free to stop in and meet Rick to discuss your auto body repair needs.
Jack Williams Auto Body attracts some of the best body and paint technicians in the industry. They're artists in their own right ... who are precise, detail-oriented individuals with a relentless pursuit of excellence when it comes to restoring your vehicle to its pre-damage state.